The Experiences of Biocrystal Users
What People Say About Sleepm Biocrystals
Hear what our satisfied customers have to say!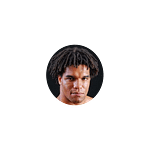 Former UFC Champion Carlos 'The Ronin' Newton
I always look forward to coming back home to my Sleep M biocrystal mattress and pillow. The mattress perfectly supports my alignment, and since I switched out from my old mattress, I have found that I recover faster from jet lag. Nothing compares to a good night's sleep, especially after a long flight. Despite what you may think – I usually travel in coach.
Practitioner's Experiences
What healthcare professionals and scientists have to say: