Sleepm Global was named winner of the Outstanding Fast-Growth Business category at the 2019 Global Business Excellence Awards.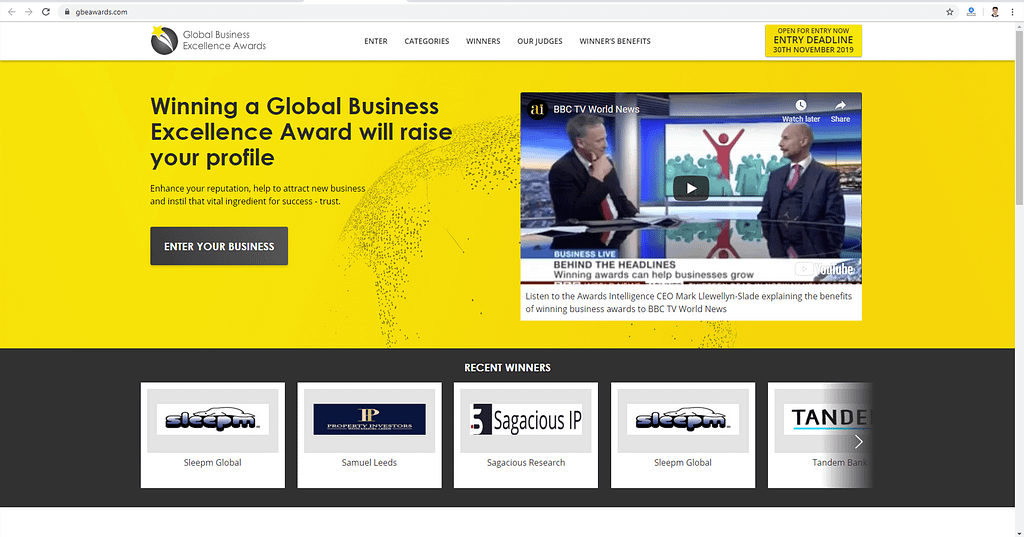 Sleepm Global Inc. was recognized for its innovative approach to improve dramatically the sleep quality of each consumer and bring the sleep health to the next level. The Global Business Excellence Awards pride themselves on having a large panel of independent expert judges who select winners according to strict criteria for each category and sector; focussing on financial results, innovation, customer, employee, investor and community benefits. Commenting on Sleepm Global, the winner in the Outstanding Fast-Growth Business category, the chairman of the judges said: "With the promise of a healthier and better night's sleep, people have gone crazy for Sleepm Global's cutting-edge biocrystal mattresses. This has resulted in the Canada-based company opening offices and warehouses in 38 countries in only a couple of years. As well as expanding overseas, the company has developed more products, grown the sales force to 3,500 people, created 100 millionaires and become a top three company in Canada. Congratulations to Sleepm for achieving its dreams through a ground-breaking innovation."
Upon receiving the Award, Emma He (company spokesperson) said: "Thank you so much. I'm really excited to witness this glorious moment here. Sleepm Global Inc. has been tirelessly helping people solve their sleep issues. I'm deeply proud of what we are doing and I do believe that more and more people will benefit from our products in the future "
The Global Business Excellence Awards are one of the world's highest profile awards and winning this accolade speaks volumes about the quality of your work. Due to their high profile, the Awards attract a wide range of entries from across the world, from large international PLCs and public sector organizations to dynamic and innovative SMEs. The winners all have one thing in common – they are truly outstanding at what they do and Sleepm Global have proved this by winning a Global Business Excellence Award.